Looking for a festive knitting project? We've rounded up the best Christmas knitting patterns
These gorgeous Christmas knits are fun to make and are bound to be admired by friends and family. It's never too early to start planning Christmas and well worth the effort to make handmade decorations and gifts.
Fairy Christmas Tree Decoration Knitting Pattern – product code WTD042
With her charming outfit and halo, this Christmas fairy will look delightful at the top of any tree. Whether you prefer a scented pine or a silver tinsel Christmas tree, she's got just the right magic. Christmas Pudding Jumper, Hat & Socks Baby And Children's Knitting Pattern – product code WBD035
How adorable is this jumper and hat? Snug for the cold weather and a real plum pudding of a design! Rabbit Knitting Pattern £3.99 – product code WTD029

The floppy ears and sweet smile make this bunny a must-have seasonal project. Hop to it! Christmas Nativity Set Knitting Patterns – product code WTD072

A shepherd and three wise men gather around Mary, Joseph and Baby Jesus to welcome the Infant King. Christmas Pudding Tea Cosy Knitting Pattern – product code WHD130

Keep your cuppa piping and your teapot looking festive with this cute cosy. Christmas Pudding Decoration Knitting Patterns – product code WHD078

Decorate your Christmas table with these perfect Christmas puds. Christmas Toys Knitting Patterns – product code WTD064
A trio of toys every little boy and girl will love. Christmas Tree Knitting Pattern – product code WHD125
With a simple yet effective design, this abstract Christmas tree promises to make a real festive style statement. A good knitting pattern for beginners to try, it's made from three knitted triangles. Christmas Sampler Knitting Pattern – product code WHD073
This Nordic-inspired make will add a sophisticated touch to your Christmas decorations. Place in a frame and it makes the perfect seasonal gift for someone special. Polar Bear Toy With Sweater Knitting Pattern – product code WTD040
Every bear should be well dressed and this teddy is very stylish.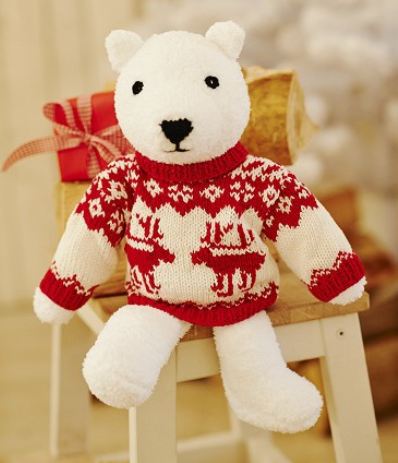 Order your Christmas knitting patterns by calling 0800 024 1212 and we will post them to you.